My My's Lil' Corner
Antiques & Flea Market
---
Matthew's Lawn & Landscape
Matthew White
As experts in landscaping services, Matthews Lawn & Landscape LLC knows that every lawn is different which is why we work with our customers from start to finish. Our landscape team is known for producing creative and high-end work all throughout Gulf Breeze, cantonment, and surrounding areas. One of our goals is to help our customers save money in the long run, so our landscape architect provides the ultimate value.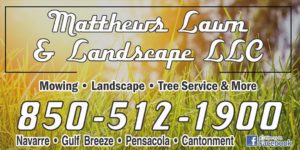 After helping beautify your home environment, our experts at Matthews Lawn & Landscape LLC can help you maintain your lawn with personalized lawn care service. Regularly scheduled residential lawn care can go a long way, especially when avoiding the lawn disasters or messes that seasonal change can cause.
Contact a landscape designer from Matthews Lawn & Landscape LLC in Gulf Breeze, FL today!
(850) 512-1900
Tip of the Spear Gutters LLC
As masters in our trade we offer 6" gutter installation, gutter removal, and gutter cleaning. We at Tip of the Spear Gutters LLC know what is needed for your home. We will walk you through the process of installation from start to finish and inform you of the products we offer. We also walk your property and look for problem areas in your yard, landscape, and foundation. Gutters are a solid investment for your home and will come with a 15 year warranty.
The company is veteran owned and operated, proud to be patriots of this great nation. As such, we offer a 5% Military and First Responder discount. Our company provides competitive pricing, color matching, outstanding customer service and quality craftsmanship. For your peace of mind we are licensed and insured.
We are Tip of the Spear Gutters LLC, we look forward to working with you! Contact us Today!
Like our Facebook page Tip of the Spear Gutters LLC
(850) 512-1900
tip.spear.gutters@gmail.com
---
West Florida Genealogical Society