Floridian Neighborhood Watch
Point of Contact
President: Perry Unruh

Vice President: Ed Clark
Home: 944-0598
Cell: 377-0036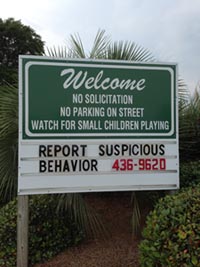 See something!
Do something!
Call Sheriff's Dispatch
436-9620
Neighborhood Watch Meetings
The Neighborhood Watch Meetings have been canceled until further notice.

Deputies Hit the Streets Preaching Locked Doors
What Is a Neighborhood Watch Program?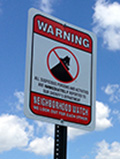 Neighborhood Watch is a program designed to increase neighborhood livability by reducing crime and the fear of crime by active citizen participation.
By organizing a Neighborhood Watch you will:
Become familiar with your neighbors and activities on the block.
Be able to recognize and report suspicious activity.
Learn ways to make your home and yourself a "hard target."
Become part of a block map and telephone tree system.
Promote a positive open relationship between the Law Enforcement community and your neighborhood.
What Neighborhood Watch Is Not
A vigilante force working outside the normal procedures of law enforcement.
A program designed for participants to take personal risks to prevent crime.
A 100% guarantee that crime will not occur in your neighborhood.
Benefits of Neighborhood Watch
You reduce the risk of being a crime victim.
You will be better prepared to respond to suspicious activity.
Information about criminal activity in your area will be more readily available to you.
Neighborhood Watch signs will be available to post in your neighborhood.
By knowing your neighbors you can feel more secure about your property.
By reducing the fear of crime it makes your neighborhood more livable.